Makerfire BNF Micro FPV Quad with External FrSky AC800 Receiver/ F3 EVO Flight Controller Cleanflight MF4194592
This is the new 64mm ducted fans quad,with  newest F3 FC , flashable to Cleanflight/Betaflight.
You just need the FrSky transmitter and FPV display or goggle,then you could experience indoor FPV racing with great fun!
Specifications:
Wheelbase: 64mm
Weight: 22g (without battery)
Flight Controller: Makerfire F3 Brushed FC with external FrSky AC800 receiver
Motor: 6x15mm Coreless Brush Motor
Receiver: FrSky AC800 receiver
Camera and 5.8G Tx: AIO 520TVL 1/4 Inch Camera 25mW 40CH
Batterry: 3.7V 200mAh Lipo battery with Pico JST connector
Flight time: 3 min
Q: Can I enjoy it if I am a drone hobby beginner?
A:Its not a beginners quad. You will need a descent transmitter.
You will need to know how to program cleanflight/betaflight.
Most important, you should have 5.8G goggles to enjoy the FPV experience.
Q: I want more information about the brush flight controller.
A: Makerfire F3 brushed flight controller with FrSky AC800 receiver, compatible with FrSky Taranis X9D/X9D Plus.
Package Including
1 * Makerfire Micro FPV quad
Features
Makerfire MICRO FPV is a small first-person-view aircraft that truly allows you to feel the gift of flight and the feeling of being tiny
64mm motor spacing, four carefully-tuned electric ducted fans
Makerfire F3 EVO Brushed flight controller native with exeternal FrSky AC800 receiver, fully programmable through Cleanflight/Betaflight.Compatible with FrSky Taranis X9D/X9D Plus.
5.8G AIO 25mW camera, give you 10° camera angle
615 coreless motors, 4.2V input supply with 1.34A output , solid power and punch
Compatible with Frsky X9D/X9D Plus
Binding & Betaflight Setup Procedure with External FrSky RX
a.Turn on transmitter, create new mode and enter setup, the Mode must be D8.

b. Power on the quadcopter by connecting the battery,red LED at the tail of the drone will flash rapidly on receiver after 6 seconds, the receiver is in ready for binding mode.Then turn on the transmitter, enter the binding mode, the red LED will turn solid, this means it has binded successfully with the default mode in SBUS.
Connecting the USB cable will not power on the FrSky RX,so you MUST connect the battery when binding.
Turn on the transmitter for 6 to 30 second to be binded in SBUS mode; Turn on the transmitter after 30 seconds to be binded in PPM mode. The flight controller will default SBUS mode.

c.For each flight, turn on the transmitter firstly, then power on the quadcopter, if the receiver has a solid red LED,this means it is binded correctly,with RSSI telemetry.

With FrSky RX,there are several different configurations to DSMX RX with Betaflight GUI .
The FrSky receiver is serial.It outputs SBUS signal.
Ports Tab:Switch on Serial RX of UART2.And click the Save and Reboot button in the lower right corner.

Configuration Tab:Receiver Mode, choose RX_SERIAL; Serial Receiver Provider, choose SBUS.And click the Save and Reboot button in the lower right corner.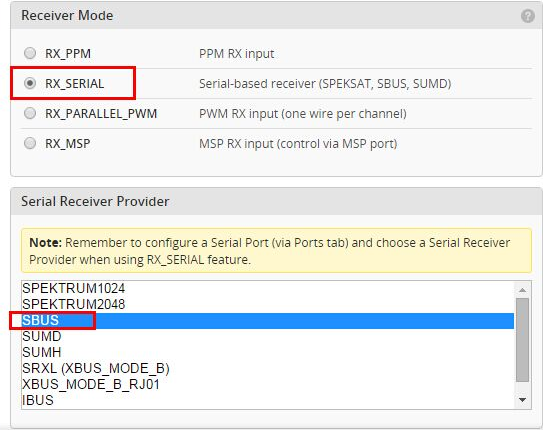 Available
Currently unavailable