Makerfire BNF Micro FPV Quad with Native DSM Receiver F3 EVO Flight Controller Cleanflight MF4194575
This is the new 64mm ducted fans quad,with  newest F3 FC , flashable to Cleanflight/Betaflight.
You just need a TX and FPV display or goggle,then you could experience indoor FPV racing with great fun!
Specifications:
Wheelbase: 64mm
Weight: 22g (without battery)
Flight Controller: Makerfire F3 Brushed FC with DSM receiver
Motor: 6x15mm Coreless Brush Motor
Receiver: DSM receiver
Camera and 5.8G Tx: AIO 520TVL 1/4 Inch Camera 25mW 40CH
Batterry: 3.7V 200mAh Lipo battery with Pico JST connector
Flight time: 3 min
Q: Can I enjoy it if I am a drone hobby beginner?
A:Its not a beginners quad. You will need a descent transmitter.
You will need to know how to program cleanflight/betaflight.
Most important, you should have 5.8G goggles to enjoy the FPV experience.
Q: I want more information about the brush flight controller.
A: Makerfire F3 brushed flight controller with DSM receiver, compatible with TX supports DSM protocol
Package Including
1 * Makerfire Micro FPV quad
Features
Makerfire MICRO FPV is a small first-person-view aircraft that truly allows you to feel the gift of flight and the feeling of being tiny
64mm motor spacing, four carefully-tuned electric ducted fans
Makerfire F3 EVO Brushed flight controller native with exeternal FrSky AC800 receiver, fully programmable through Cleanflight/Betaflight.
5.8G AIO 25mW camera, give you 10° camera angle
615 coreless motors, 4.2V input supply with 1.34A output , solid power and punch
Compatible with TX supports DSM protocol
This is the newest version, which is compatible with ALL Spektrum radios(e.g. DX6,DX6i,DX7,DX8) or Spektrum compatible transmitter module(e.g. Turnigy 9X or Taranis X9D/X9D Pkus with OrangeRx module).
This is a Spektrum DSMX/DSM2 compatible receiver. It is not an official Spektrum receiver. The Spektrum, DSMX and DSM2 brand is a trademark of Horizon Hobbies, USA.
---
Native Spektrum DSM Receiver:Compatible with ALL Spektrum radios or Spektrum compatible transmitter module.No more hacks, just bind and fly!
F3 EVO flight controller:Fully programmable through Betalfight using the onboard USB port! Tune all the parameters, PID's, and rates to your perfect settings!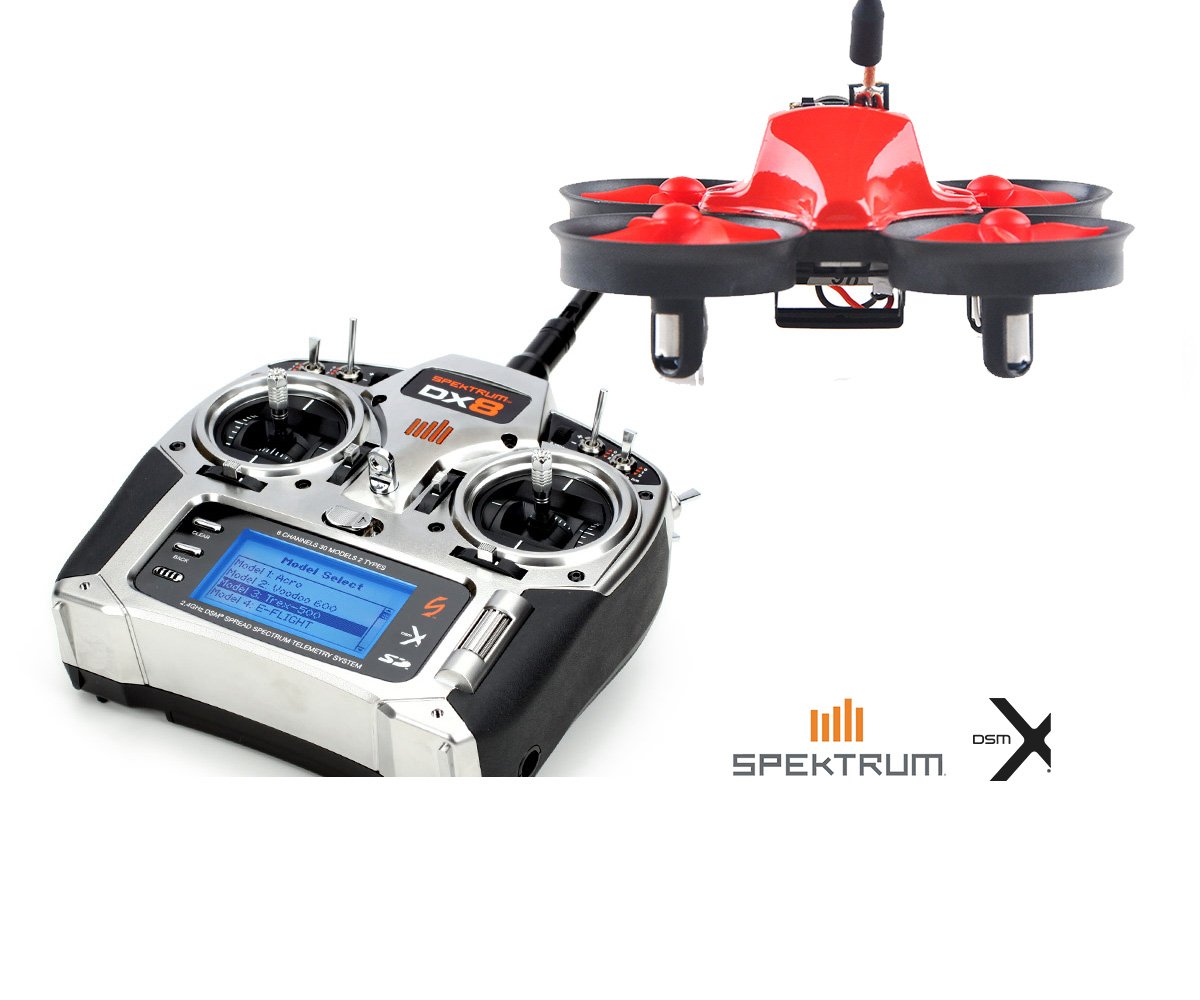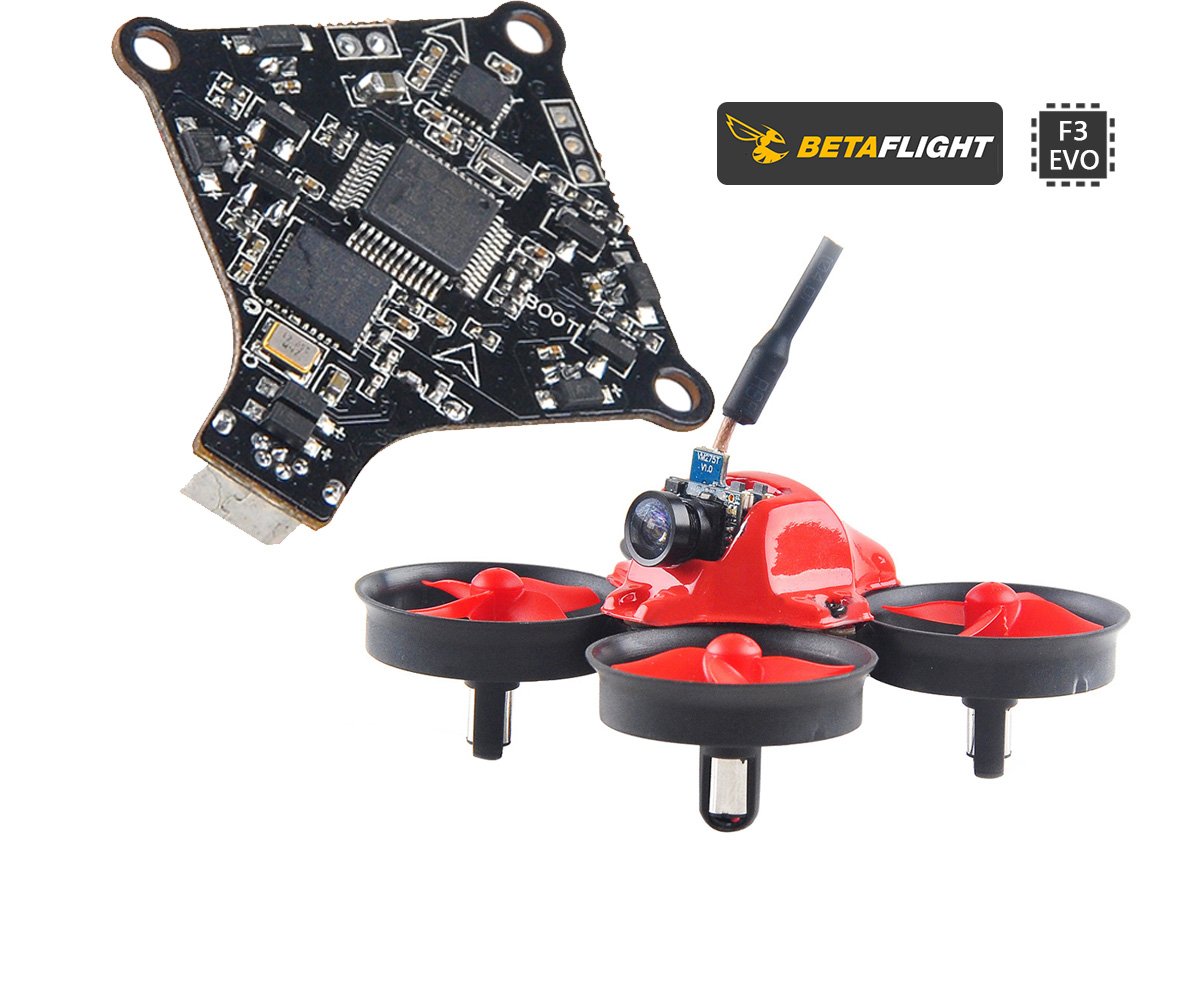 17500kv these motors:Considerably more powerful than almost all of the motors used for Tiny Whoop style aircraft,without encountering considerable oscilations.
10° tilt camera mount:Perfect angle for Tiny Whoop flight. At this angle the pilot can still see everything ahead in full-blown fast forward flight.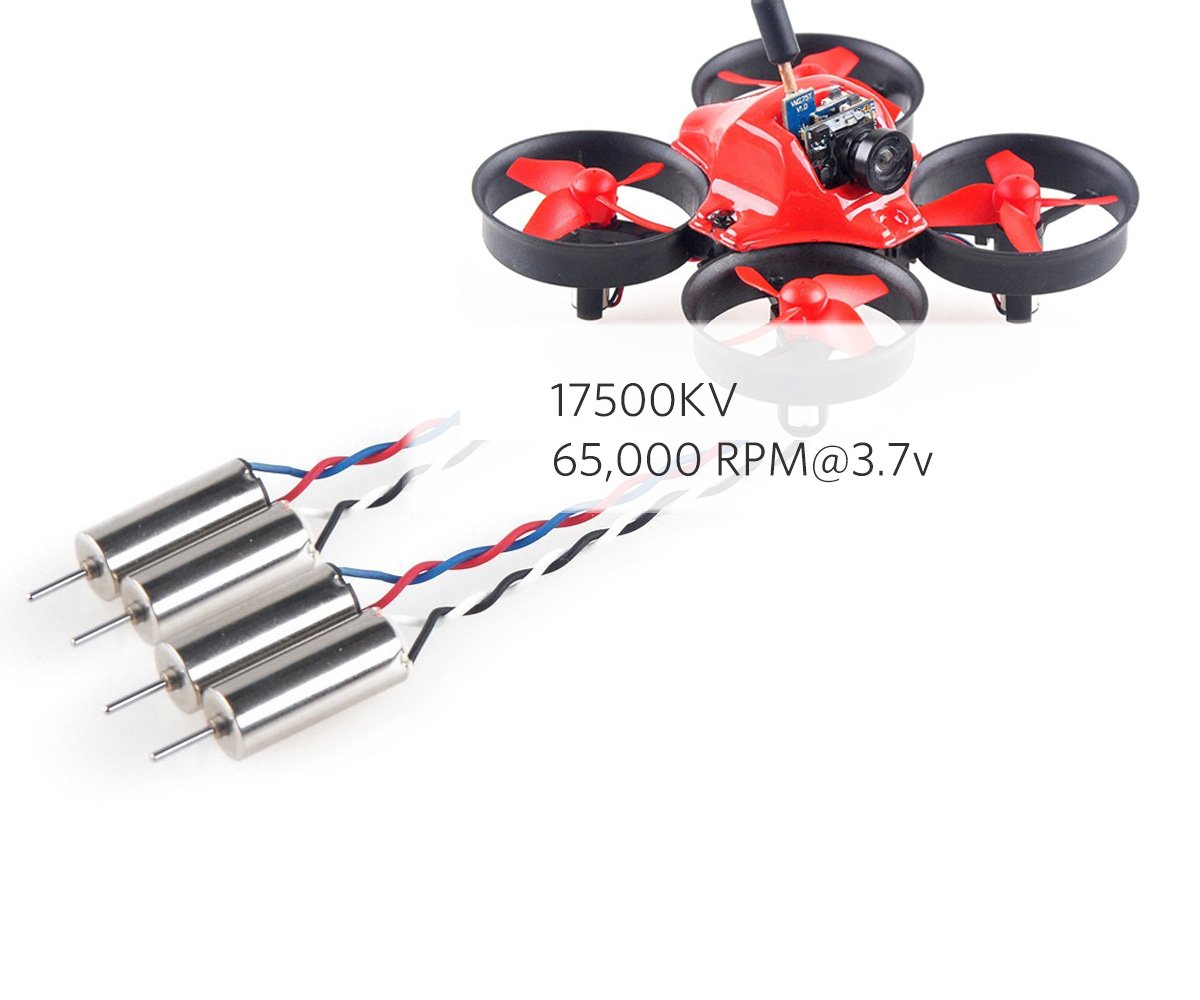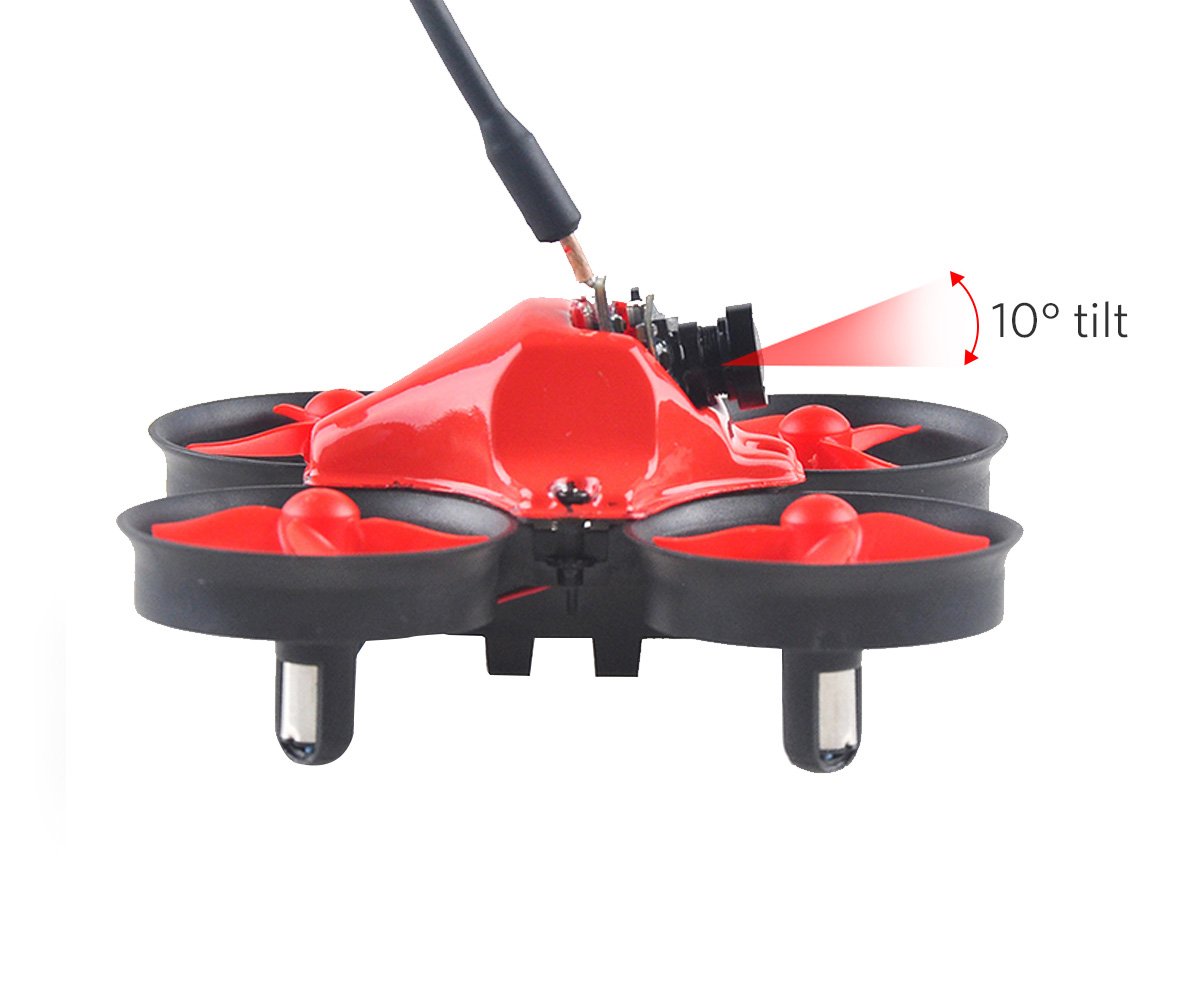 ---
Binding & Flying Procedure
To bind the Makerfire Micro FPV Drone to a Spektrum radio:
a.Click the bind-button meanwhile powering on the drone, either by connecting the battery or USB power. Then the receiver will enter bind mode, indicated by rapid blue receiver LED flashing.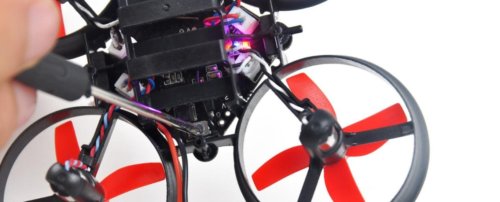 b.Now, on the radio, hold the bind-button while powering on the radio (or what it takes to enter bind-mode).
c.The blue receiver LED should stop blinking and turn solid on when the bind is completed.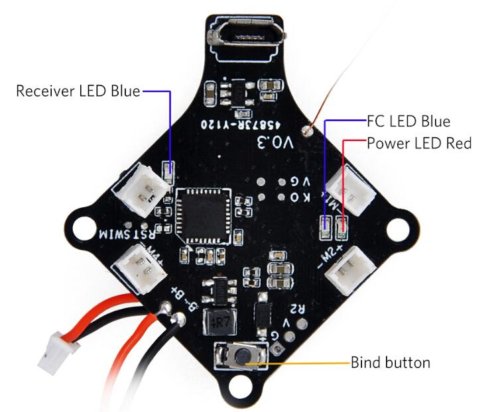 d.Only need to bind the radio ONCE.Next time the receiver will bind to the last radio automatically.
If you have problems binding change the TX to DSM2/22ms mode. Normally what you set on the TX is the desired mode and the TX+RX negotiate their capabilities and select a mutually compatible mode. The receiver in this quad seems unable to do that reliably.

If you still have problems binding take the TX and walk to the other side of the room. This is a solution that Spektrum themselves recommend for some TX+RX firmware combinations. This seems to be the case between my DX8 and this quad.
If you get the version with external FrSky RX,click HERE for help.
---
Betaflight/Cleanflight GUI Set Up
The flight controller board comes pre-flashed with BetaFlight and proper settings for the Makerfire FPV Micro Drone already set up but you still need to configure the receiver settings. Also if you upgrade the firmware or reset settings, you will lose the receiver settings and need to set them up again.
CLI Tab:
Go to CLI and type this in.
set motor_pwm_rate=10000

save
Configuration Tab:
ESC/Motor Features,ESC/Motor protocol,click and select BRUSHED,switch on MOTOR_STOP(optional).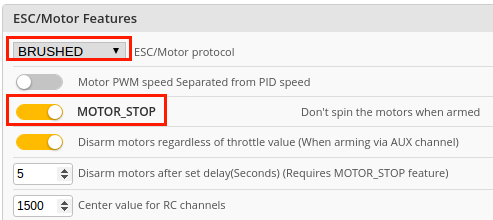 Receiver Mode, choose RX_PPM;Serial Receiver Provider, choose SPEKTRUM1024.And click the Save and Reboot button in the lower right corner.
The receiver is NOT serial.It outputs PPM signal.

The receiver does not follow the Spektrum channel mapping. Instead it outputs AERT1234.
Modes Tab(Optional):
ARM,click Add Range.ANGLE,click Add Range.And click the Save button in the lower right corner.

---
Frequently Asked Questions
Due to the overwhelming response from the customers, we have put together this FAQ to answer the most commonly asked questions.This section will grow as more and more customers give us valuable feeedback and suggestions on how to improve the tuning.
Q:Can I enjoy it if i am a drone hobby beginner?
This is not a beginners quad.You will need a decent transmitter.
You will need to know how to use the program cleanflight/betaflight.
Most importantly,you should have 5.8G goggles to enjoy the FPV experience.
Q:Is this a complete rtf quad and does it include a battery?
This is not complete RTF drone. You will need a transmitter to bind to it. Spektrum DX8 is recommended.
Q:I want more information about the brush flight controller.
Makerfire F3 brushed flight controller with Native DSM receiver, support DSM2 protocol with 8 channel or above for this current version, compatible with Spektrum DX8, DX9, DX10, DX18, DX20 transmitter, would be upgrade for supporting all Spektrum radio transmitter, like DX6/DX6i.
Q:What Flight Modes does it have?
The board runs the popular Cleanflight/Betaflight firmware that is fully customizable and includes several different modes: Auto-Level, Horizon (auto-leveling mode with ability to flip), and full manual (rate). You can also enable AirMode and be able to control the quad at any speed and attitude!