DJI Mavic 2 Zoom Drone Quadcopter with Fly More Kit Combo Bundle DJI-MAVIC2ZCB
The Mavic 2 offers iconic Hasselblad image quality on the Pro and a high-performance zoom lens on the Zoom.
| | | |
| --- | --- | --- |
| 2x Optical Zoom | 1/2.3" CMOS Sensor | 48MP Super Resolution Photo |
| 4x Lossless Zoom FHD Video | Dolly Zoom | Hyperlapse |
Overview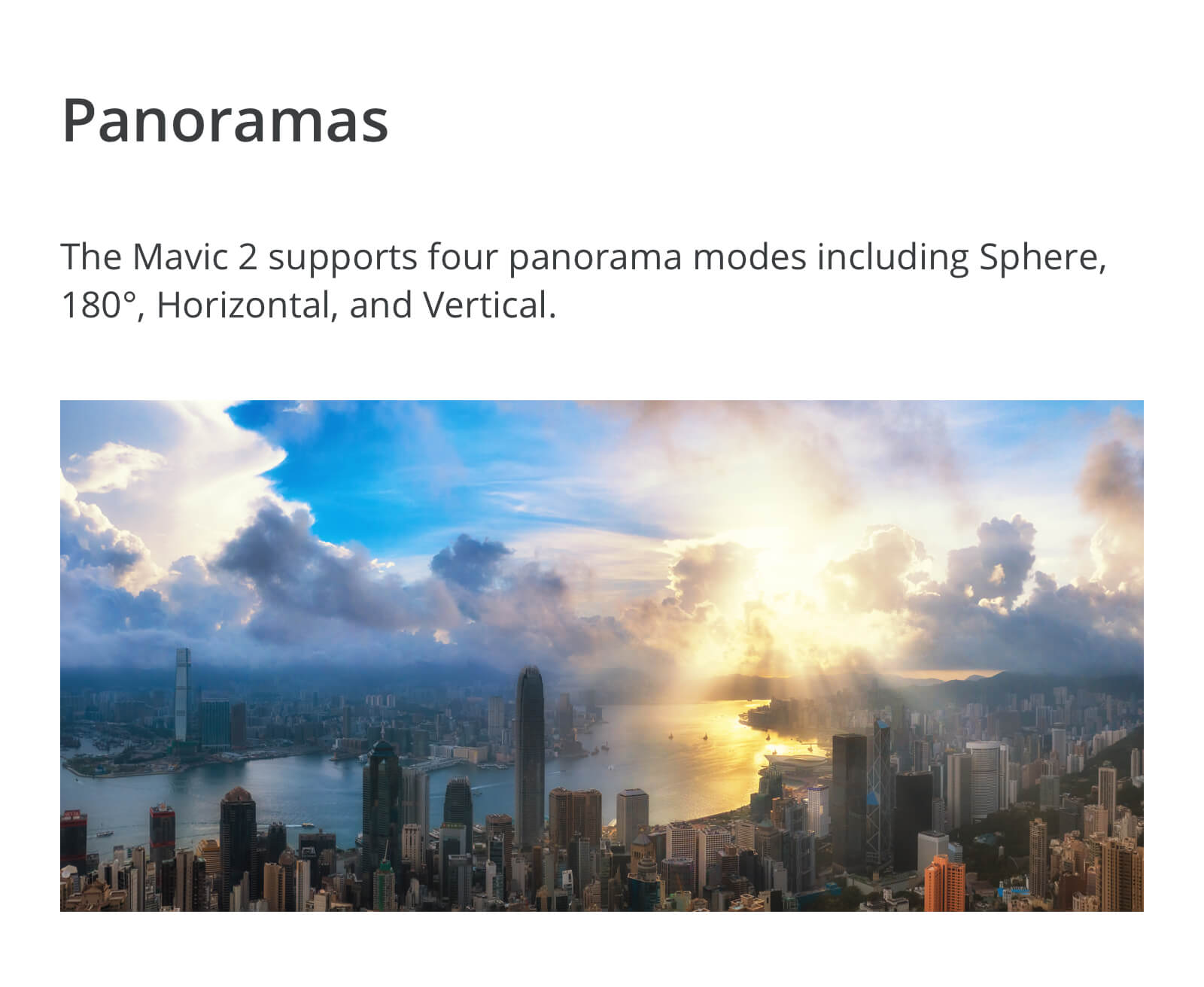 1. 35 mm equivalent focal length.
2. Unobstructed, free of interference, when FCC compliant.
3. Acquired at a constant speed of 25 kph, free of wind. Actual flight time may vary because of the environment and use of flight modes.
4. The DJI Goggles support a 2.4 GHz frequency band only, while the DJI Goggles RE support both 2.4/5.8 GHz frequency bands and real-time auto-switching for better performance.
5. Due to local policies, some countries do not support 5.8 GHz transmission.
6. HNCS was developed to offer a single color profile that optimized an image to bring out a wider array of colors and improved contrast, to a multitude of subjects. Standard color profiles often fall short when working with the subtle aspects of natural colors of varying subjects, applying too much or too little of an effect on tones.
7. Available on the Mavic 2 Zoom only.
8. Available soon.
In The Box
Videos
Multiple Intelligent Flight Batteries for a longer flight
Charge batteries while driving
Turn your batteries into power banks
Low-noise propellers for quieter flight
A versatile shoulder bag to carry everything
Overview
The Mavic 2 Fly More Kit includes two Intelligent Flight Batteries, a Mavic 2 Car Charger, a Battery Charging Hub, a Battery to Power Bank Adapter, Low-Noise Propellers, and a Mavic 2 Shoulder Bag, providing you with comprehensive support during shooting.
Both Intelligent Flight Batteries have a capacity of up to 59.29 Wh, and each have a maximum flight time of 31 minutes. With a built-in DJI Intelligent Battery Management System, battery status is monitored and reported in real-time, allowing you to focus less on your power levels and more on having an epic flight.
The Mavic 2 Car Charger allows you to charge batteries while driving, and it has a maximum output power of up to 80W and features low-voltage protection technology that ensures the charge will not prevent your car from starting normally.
The Battery Charging Hub enhances efficiency by charging batteries in sequence according to their remaining power level, with more fully-charged batteries receiving power first. Thanks to the Battery Charging Hub's foldable design, it's easy to take it along wherever you go. You can even enjoy up to four charging ports when you use it with the Car Charger or Battery Charger.
The Battery to Power Bank Adapter turns your Intelligent Flight Batteries into high-capacity power banks. Each Battery to Power Bank Adapter has two USB Type-A ports, offering 10 W dual output, allowing you to fully charge a smartphone using just 20% of one battery.
Two pairs of Low-Noise Propellers come in the kit as well. These next-generation propellers adopt a brand new aerodynamic design, which results in quieter flight, increased efficiency, and extended flight time.
The versatile Mavic 2 Shoulder Bag is specially designed for the Mavic 2. It's capable of holding one aircraft, one remote controller, four Intelligent Flight Batteries, a smartphone, extra propellers, ND filters, cables, microSD cards, and plenty of other accessories.
Highlights
Multiple Intelligent Flight Batteries for a longer flight
Charge batteries while driving
Turn your batteries into power banks
Low-noise propellers for quieter flight
A versatile shoulder bag to carry everything
In the Box
Intelligent Flight Batteries × 2
Mavic 2 Car Charger × 1
Battery Charging Hub × 1
Battery to Power Bank Adapter × 1
Low-Noise Propellers × 2 Pairs
Mavic 2 Shoulder Bag × 1
Item number
DJI-MAVIC2ZCB
Manufacturer
DJI Innovations